Our core-business is to create custom business management applications.
Our services rely on Officity, an open source web applications platform. Combined with our talented team, we provide you:
Fast implementations
Highly malleable and scalable environment
Intuitives user interfaces
One application to rule them all.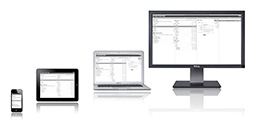 The applications we develop are adapting to the user's screen optimally. Your applications can be used on desktops and laptops, but also on tablets and smartphones without additional budget.
Projects, customers, invoices, documents, inventory, computer equipment, market research ...
Think of your Excel files you use to manage information rather than calculate. You cannot easily share that content, or work with others, and even less link the various information together… and think about the excel files of your colleagues from which you do not have access, and the nightmare of knowing where to find the lastest version.
If you can not find management software for your business or for a specific project, we create custom management software that offers better operational efficiency, reduced costs, and faster time-to-market.
Today the custom application is no longer the preserve of large companies and is accessible to all. If you have difficulty managing your data, to connect them together to share in your company or with your partners and customers, automate tasks, do not hesitate to contact us.